COVID-19 Response: UDCA set to drill 24 boreholes
KAMPALA - The Uganda Drilling Contractors Association (UDCA) set to drill 24 boreholes valued at sh657,600,000. According to Dr Flavio Pasqualato, the chairman of UDCA, this will be their contribution towards the COVID-19 emergency response.

"In such times, people and health centres need clean water. That is why we have offered to provide tangible support to the government's efforts towards combating the COVID-19 pandemic in Uganda," Pasqualato said.

He said they were happy to respond to the presidential call to the public to make donations to ease governments efforts in combating the virus.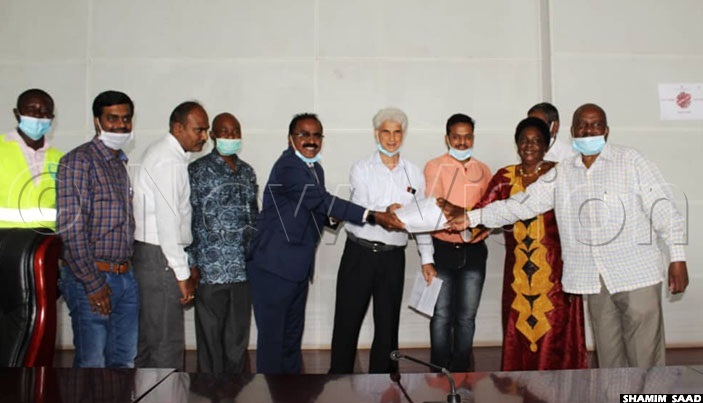 "We believe that by drilling these boreholes at health centres in rural areas, it will greatly improve on people's sanitation and hygiene hence reducing the spread of the virus," Pasqualato noted.

Koti Reddy, UDCA treasurer said boreholes are a good source of safe and reliable water for the whole community. He added that the safe water will protect locals who will benefit from waterborne diseases which are quite common in rural areas.

"Women and children will also gain easy and quick access to water-saving the community members especially pregnant mothers from long distances in search for clean and safe water," he said He requested the national COVID-19 taskforce to allocate them the areas where they will drill the boreholes.

Venkat Reddy, Board Member UDCA and Anthony Luttu (GM UDCA) presented the offer letter to the Minister in charge of General Duties and the head of the national COVID-19 task force team, Mary Karooro Okurut.

Individual companies under UDCA will drill the boreholes. Every company pledged to drill a specified number of boreholes.

China Geo-Engineering Co Ltd 2 hand pumps, Draco Uganda Limited 1 hand pump, East Africa Boreholes Ltd 1 hand pump, Ebowa Investments Ltd 1 hand pump, Green Power International Ltd 1 hand pump, Icon Projects Uganda Ltd 1 hand pump, KLR U Ltd 1 hand pump, MAA Technologies Ltd 2 hand pumps, Maji Boreholes 1 hand pump, MK Engineering Co. Ltd 1 hand pump, MSR Tec. U Ltd 1 hand pump, PMP Holdings Ltd 1 hand pump, Reddy's Boreholes & Technical Services Ltd 2 hand pumps, Royal Techno Industries Ltd 3 hand pumps, SRI Balaji Ltd 1 hand pump, Sumadhura Technologies Ltd 3 hand pumps and TGS Water Ltd 1 hand pump.

Source: Newvision 4th May 2020 01:35 PM